Dear Blogie...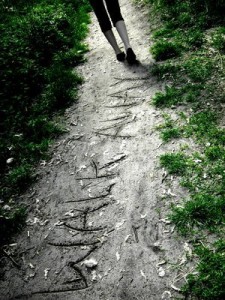 it seemed forever
every second felt like an hour
time seemed to slow down
when it was really unnecessary;
i guess i got lost
trying to be someone else,
somewhere along the way
i left myself behind;
everything i touched was golden,
everthing i loved got broken,
every mistake i've ever made
has been replayed over and over again
as i got lost along the way;
some said i was a lost woman
in my own fantasy world,
but then i would probably
be dead by now;
growing tired and weary,
waiting,
i stepped out for
some fresh air;
standing still in emotions
that i cannot show,
i feel there is nothing else
left for me to do here;
everytime i try to dream,
memories still haunt me,
over and over again
replaying in my head;
as darkness comes
and my world fades to black
i reach for life (love)
but grab thorns instead
yet i laugh and walk away
like I always do..
p/s : i am walking away from things that i believed to be mine and from people who i thought to be my friends. While i just laugh and walk away, like i always do, at times i try to find a reason but waste countless hours or days. I came back to life for a reason, but going back without one. The past is over and gone. The future is not guaranteed.
---
Thank you for read, like and comment. I Love You Sweetie! :)
---